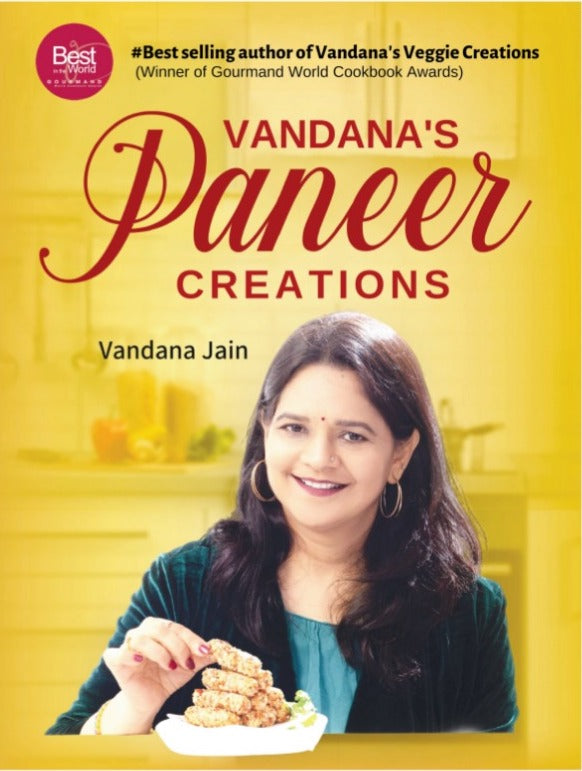 ''Vandana's Paneer Creations''
Winner of Best Indian Cuisine Book in the World - by Gourmand World Cookbook Awards 2021.
The unveiling of secrets of Paneer (Cottage Cheese) which produce the aromatic and delectable tastes of Indian Cuisine having unique features like unbeatable flavours, creativeness in each recipe, a simple approach, an alluring presentation, healthy yet palatable recipes, smart collection of recipes which fulfils your needs and wants for all occasions. This book showcases recipes that range from tasty and popular gravies/ curries, sauces, and savoury desserts to snacks, vegetarian Paneer delicacies steeped in the traditions of India. Your Taste buds are sure to be entranced. Every recipe has been thoroughly tested to ensure excellent results for even the novice cook. Moreover, this book contains home remedies to suppress various ailments with ease, this cookbook will give you and your family members many moments of joy and happiness. They are written in simple language and if properly followed will reward your efforts with success. Your guests and family will rejoice in the absolutely delicious dishes you prepare. Get ready to embrace your hidden talents. Bon Appetit!
The book includes FINGERFOODS, SALADS, APPETIZERS, MAIN COURSES, SIZZLERS, KULCHAS/ PARATHAS, WRAPS, SANDWICHES & SWEET TREATS!